Disability Employment Working Group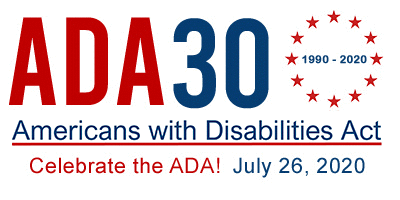 2020 National Disability Employment
Awareness Month: An Opportunity to Reflect
and Reimagine
Pamela Nabors
CEO of CareerSource South Central Florida
First Vice President of the USCM Workforce Development Council
October 2020 marks the 75th Anniversary of National Disability Employment Awareness Month (NDEAM). This month-long celebration provides us with the chance to reflect on the progress that we have made over the years in expanding opportunities for individuals with disabilities to fully participate in all aspects of society, as well as to renew our commitment to ensure that the next 75 years bring even more prosperity to the disability community. The theme of NDEAM this year is "Increasing Access and Opportunity," and the U.S. Department of Labor's (DOL) Office of Disability Employment Policy (ODEP) has prepared an NDEAM resource page, which contains NDEAM-related information and ideas of ways that a wide variety of organizations can participate in celebrations around NDEAM.
At CareerSource Central Florida, we are celebrating the many successes of the Ticket to Work program, which we have been operating as an approved Employment Network through the Social Security Administration since 2017. Through this program, we have successfully connected career seekers with disabilities to meaningful training and employment opportunities helping them to advance in the workforce and become economically independent and self-sufficient.

Partnerships are crucial. CSCF also partners with local businesses and academic organizations to offer career consultation, training and job placement services. CSCF is working on partnering with community agencies to conduct orientations at their sites to bring more awareness of the Ticket to Work (TTW) Program and employment assistance provided by CSCF. Through our partnership with Vocational Rehabilitation (VR), our TTW staff has shared orientation and information with them about TTW and CSCF to individuals whose VR cases are closing but desire to continue accessing Employment Network services. CSCF provided career-readiness workshops and training to recent graduates of Lighthouse Central Florida's Visually Impaired Customer Service training program. More than half of the participants are now employed and contributing their talents to the Central Florida community.

As Chair of the USCM Workforce Development Council's Disability Employment Working Group, I am also proud of the work that the WDC has done this past year in collaboration with the Department of Labor's State Exchange on Employment and Disability (SEED) to help raise awareness about how cities and local workforce areas can help address barriers to employment and expand access to opportunities in the workforce for individuals with disabilities.
This work includes a webinar held earlier in July to celebrate the 30th Anniversary of the Americans with Disabilities Act, as well as a publication released earlier this year entitled Advancing Inclusion and Diversity in the Workforce, which features examples of successful programs designed to improve employment outcomes for individuals with disabilities and useful resources and information for mayors, city officials, and workforce development professionals to consider as they strive to build stronger communities and workforces that are more inclusive of people of all backgrounds. I encourage you to make use of all these resources above, not just during the month of October, but all throughout the rest of the year to promote increased access and opportunities in the workforce for individuals with disabilities.
As we look to the coming year, we are excited to continue our work with the SEED team on disability employment initiatives. In the months ahead, the WDC Disability Employment Working Group will be helping to guide the development of a resource toolkit to assist cities and communities as they address the impact of the COVID-19 pandemic on career seekers and workers with disabilities. Additionally, members of the Working Group will have the opportunity to participate in calls and webinars related to this toolkit, which will feature city representatives who will share how they are working to connect individuals with disabilities to employment and education opportunities and other related supports even in a limited resource environment where state and local budgets are heavily constrained.
I hope that my fellow WDC members will consider serving on the WDC Disability Employment Working Group and participating in the Working Group's activities this year. Regardless of what role you play in your organization, know that you can help break down barriers and build a more inclusive world where everyone has a fair shot at life. Together, we can play an important role in reimagining our economy and workforce so that every person, regardless of their background, has opportunities to contribute and fully participate in the workforce.
WDC-SEED Background Information:

In August 2019, the United States Conference of Mayors (USCM) Workforce Development Council (WDC) formally engaged with the State Exchange on Employment and Disability (SEED), an initiative funded by the U.S. Department of Labor's (DOL) Office of Disability and Employment Policy (ODEP) to help address barriers to employment for people with disabilities in cities. The partnership was announced at the September 2019 WDC Board Meeting in Washington, DC.
​
SEED is a collaboration with leading intermediary organizations that helps state and local governments develop and implement effective policies and best practices that increase employment opportunities for people with disabilities.
​
As part of USCM's partnership with SEED, the WDC formed a Disability Employment Working Group in October 2019 to study disability employment issues facing cities and make recommendations for identifying and collecting disability employment best practices from WDC member organizations. The WDC Disability Employment Working Group currently consists of over 20 WDC Members spread across the United States, and has been convening on a regular basis to discuss disability employment issues, solicit completed Disability Employment Best Practice Surveys from WDC members, and share disability employment best practices among members of the Working Group.
​
WDC-SEED Disability Employment Best Practice Publication:
Sunday, July 26, 2020 marked 30 years since the passage of the Americans with Disabilities Act (ADA). Ahead of this special anniversary, the WDC released the hyperlinked WDC-SEED Best Practice Publication entitled "Advancing Diversity and Inclusion in the Workforce." This publication, produced in collaboration with SEED, features best practices from USCM and WDC member cities in expanding employment and training opportunities for individuals with disabilities.

We hope that this publication will serve as a useful and timely resource for mayors, workforce development professionals, and local leaders as they search for ways to make their communities and workplaces more inclusive and accessible to people of all backgrounds, including individuals with disabilities.
​
Participation in the WDC Disability Employment Working Group:
The Disability Employment Working Group welcomes the participation of WDC members in this important collaboration with SEED. The Working Group hopes to recognize WDC members for their leadership in the area of workforce programs on disability employment and provide cities across the country with a valuable resource for promoting disability-inclusive policies and programs, in an effort to ensure that people with disabilities have access to meaningful employment opportunities.
​
If you would like to participate in this initiative or submit a Disability Employment Best Practice, please reach out to Micah Kyler at mkyler@usmayors.org for additional information.
​
Additional Resources:
The SEED team has developed a policy brief to assist state and local policymakers and other organizations as they respond to the COVID-19 pandemic. The policy brief hyperlinked below summarizes guidance that has been issued by Federal Government agencies around serving individuals with disabilities during the crisis.
​